Troubleshooting Mapping
Windows cannot access your folder
If you get the below error window, probably your machine has a cached user name and password or you are not on the UHCL network. Make sure you are connected via VPN (if you are off campus)to access these folders. If the problem still exists then reboot your machine so that your machine will flush the stored login information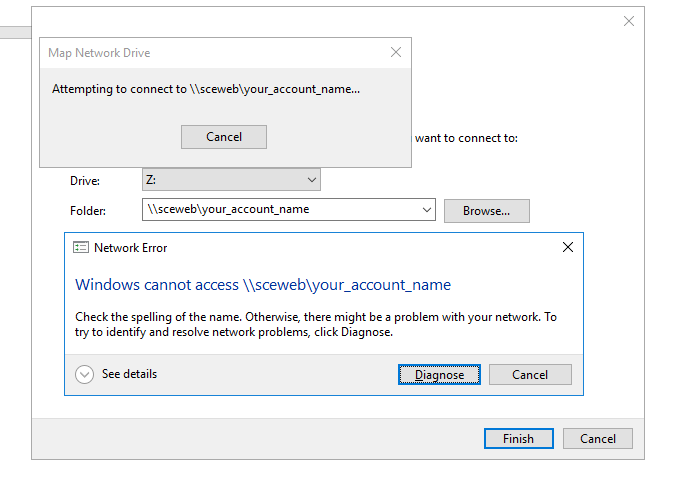 Unable to add/delete/edit files
If you are able to map but unable to change/add or edit files then your account does not have write permission set for it. Contact an RA for write information.
Account login does not work
This may happen when your account has not been given permission to see/use that particular folder. If you think this is an error, contact an RA.
Wrong login information
This may happen when your account is locked or your password is wrong. Check the account page for help with account lookup and resetting your password. For Course accounts,need to login with course username and password For SCE accounts need to use your sce Account.
How do I fix an "already mapped" or "Access is denied" error?
If you receive an "already mapped elsewhere" error even though you have no network drives map, you must use the command line to ensure its mapping is not hidden.
Disconnect any network mappings if you have them
To make sure that there are no hidden mapping go to the command prompt (Click Start, Run and Type in 'cmd')
Type in 'net use'
If you see any mapping that are old and should not be there, type in 'net use /delete the_mapping_that should_not_be_there)
Re-map your network drive as normal